Caixas de fluxo
Estrutura em aço resistente com pintura a pó

Moega com tampa basculante

Podem ser empilhadas, até 4 unidades

2 mangas de plástico para identificação de produtos

Fácil de limpar e higienizar
Características opcionais
Acessórios opcionais

Estrutura em aço inoxidável

Tampas removíveis

Tamanhos de caixas personalizadas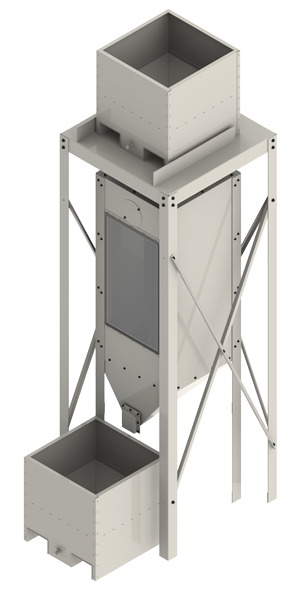 Tired of using the usual flexible bags or cardboard boxes?
We have a solution: bins and totes are the ergonomic and time-saving alternative to traditional bags and boxes. These totes are stackable up to 4 units high, which will save you some extra space. The inside container is funnel-shaped and slopes down at a 35-degree angle.
There's a slide-gate that controls a dispensing chute at the bottom of the container. To dispense, simply open the slide gate!
Alternatively, you can choose to purchase a top lid, which protects your product from dirt, moisture, and other possible contaminants. In addition, there are 2 plastic sleeves located on opposite side panels to insert an identification label for your product. These Bins and Totes are an excellent way to store your product until you're ready to use it again.
Model Number#  TOTE-004
Product Dimensions  24″x24″x36″
Shipping Weight   200 lbs
Material   Heavy powdered coated steel
---
Power
None Required
Get to know our bins and totes
Add even more customization with these accessories.
Nenhum resultado encontrado
A página que você solicitou não foi encontrada. Tente refinar sua pesquisa, ou use a navegação acima para localizar a postagem.
Does your company have unique needs?
Give us a call or send a message