Correia Selecionadora
Estrutura em alumínio e aço inoxidável

Superfície do deck de seleção com várias texturas

8 recipientes de coleta do material separado

Controle de alimentação vibratória com moega

Controle de velocidade variável para o deck de seleção

Ângulo de inclinação do deck ajustável

Deck com fluxo ajustável

Fácil acesso para limpeza e higienização
Características opcionais
Texturas das correias

Tipos de material da correia

Barras de íons que eliminam a carga estática

Tamanho das caixas coletoras customizadas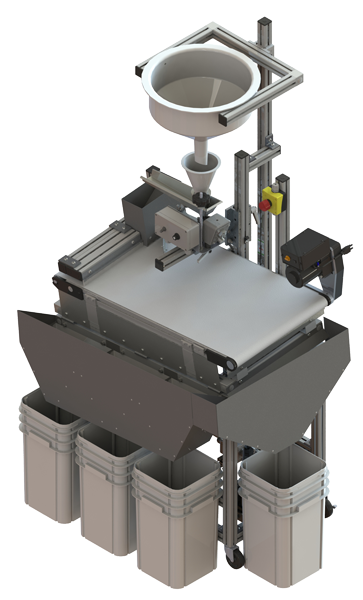 Are you working with particles that can often become misshaped?
The Belt Grader helps to ensure that there's no cross contamination when processing products. Due to its open, flat belt design, the Belt Grader can sort round material from non-round material, and rough surfaces from smooth surfaces.
As an example, the Belt Grader can separate round, vegetable seeds from weed seeds, and rounded ceramic beads from broken or chipped beads.
There's no need to worry about weed seeds contaminating your product while processing anymore — all imperfections are filtered out with the help of our Belt Grader.
Model Number#  BTCA-1100
Configuration   Single Belt
Product Dimensions   36″x42″70″
Shipping Weight   450 lbs
Material   Aluminum 
---
Power
Input: 115 VAC 60 Hz (optional 230 VAC 60/50 Hz)
Listed: UL Rated Components /CE
Get to know the Belt Grader
Make sure you have no cross contamination by using the Belt Graders unique design.
Nenhum resultado encontrado
A página que você solicitou não foi encontrada. Tente refinar sua pesquisa, ou use a navegação acima para localizar a postagem.
Does your company have unique needs?
Give us a call or send a message