Belt Grader
Aluminum and stainless-steel construction
Multi sorting deck surface textures
8 fractional collection containers
Vibratory feed control with hopper
Variable speed control for sorting deck
Adjustable deck incline angle
Adjustable deck run-off
Easy access to clean and sanitize
Optional Features
Belt textures
Belt material types
Static eliminating ion bars
Custom collection containers size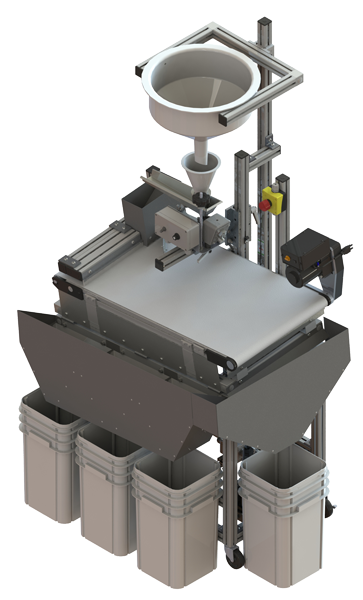 Are you working with particles that can often become misshaped?
The Belt Grader helps to ensure that there's no cross contamination when processing products. Due to its open, flat belt design, the Belt Grader can sort round material from non-round material, and rough surfaces from smooth surfaces.
As an example, the Belt Grader can separate round, vegetable seeds from weed seeds, and rounded ceramic beads from broken or chipped beads.
There's no need to worry about weed seeds contaminating your product while processing anymore — all imperfections are filtered out with the help of our Belt Grader.
Model Number#  BTCA-1100
Configuration   Single Belt
Product Dimensions   36″x42″70″
Shipping Weight   450 lbs
Material   Aluminum 
---
Power
Input: 115 VAC 60 Hz (optional 230 VAC 60/50 Hz)
Listed: UL Rated Components /CE
Get to know the Belt Grader
Make sure you have no cross contamination by using the Belt Graders unique design.
We like to work with Steve because he not only understands his equipment but understands our needs – that allows us to get to solutions quicker and more completely. I would confidently recommend both Steve and Profiles' Rotary Sorter to anyone – they are both the best!
read more
Does your company have unique needs?
Give us a call or send a message