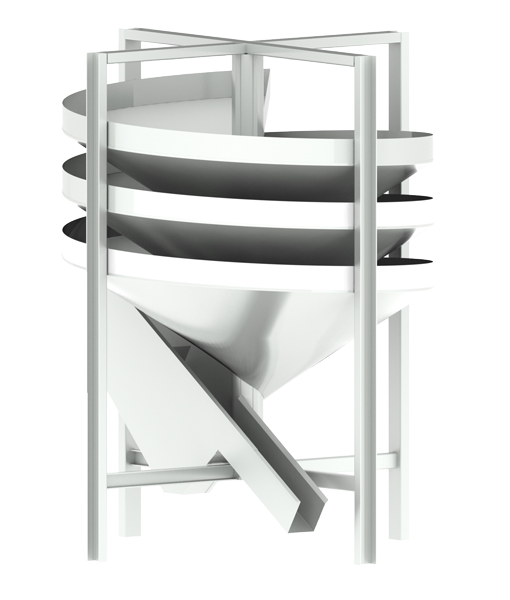 Espiral Aberto XL
Lâminas de aço inoxidável

3 voltas de separação

Porta de descarte ajustável
Características opcionais
Estrutura em aço galvanizado

Geometrias de Espiral e personalizadas

Controle de fluxo ajustável

Extensões dos pés da máquina
Need to sort larger materials that won't fit in a standard spiral separator?
The XL Open Spiral Separator is able to sort materials of both large and small diameter. There is a standard 3 turns of separation with an adjustable discharge gate, and the stainless steel can withstand both direct and hopper feeds.
This XL Open Spiral Separator works best with larger products: think about sorting nuts, berries and large seeds, or metal abrasives, metal shot, and plastic balls.
Model Number#   35-SDLG-1-SS
Configuration   Single 
Product Dimensions   40″x40″x50″
Shipping Weight   250 lbs
Material   Stainless steel
---
Power
None Required
Get to know the XL Open Spiral Separator
This is a portable, field ready, and cost-effective shape sorting solution.
Nenhum resultado encontrado
A página que você solicitou não foi encontrada. Tente refinar sua pesquisa, ou use a navegação acima para localizar a postagem.
Does your company have unique needs?
Give us a call or send a message