Lab Spiral Separator
Galvanized steel construction
5 inner flights: 2", 3", 4", 5" and 6"
Position the feed hopper onto the flight that matches the material you're separating
Easy access to clean and sanitize
Optional Features
Stainless steel construction
Stainless steel flights
Custom unique flight geometries
Discharge adaptors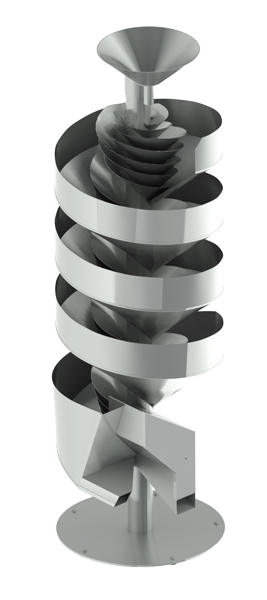 The heavy-duty Lab Spiral Separator is made for flexibility.
With 5 different-sized inner flights ranging from 2-6", this machine can manage all of your seed separating needs and save you the space of 5 additional units.
Adjusting to a different inner flight is as easy as one, two, three.
Just take the hopper on the top of the separator, pull up, and move it to the flight that you'd like to use. Not only is the hopper easy to adjust to a different flight, but it also has an adjustable flow, so you can filter product at the pace you'd like.
The Lab Spiral Separator separates rounds from non-rounds, whether you're working with seed, ceramic or glass beads. It can eliminate splits, bad seed, stems, chaff, weed seeds and debris, and also eliminate contaminants for recycled, reusable materials.
Model Number# 6.0-43-LHL-G or 6.0-41-LHL-G
Configuration   Single
Product Dimensions   22″x22″x68″
Shipping Weight   250 lbs
Material   Galvanized steel
---
Power
None Required
Get to know the Lab Spiral Separator
The Lab Spiral Separator is uniquely designed to add value to your specific operation.
As an heirloom garden vegetable seed company in the United Kingdom, we were looking for a way to remove poorer seed as well as chaff/stalks from the finished product. Based on the volume of seed we're working with the Profile team recommended their Lab Spiral to clean...
read more
Does your company have unique needs?
Give us a call or send a message