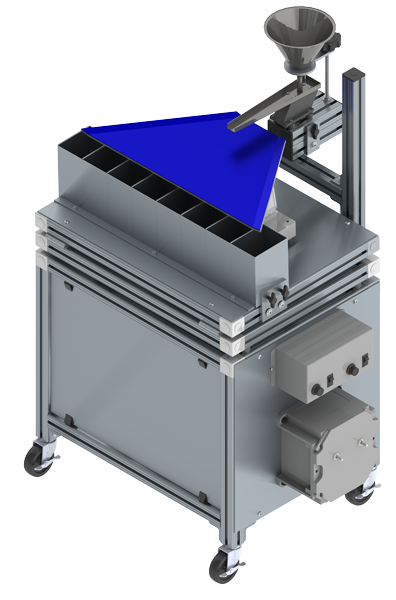 Oscillating Shape Sorter
Aluminum and stainless-steel construction
Multi sorting deck surface textures
8 fractional collection containers
Vibratory feed control with hopper
Variable speed control for sorting deck
Adjustable deck incline angle
Adjustable deck run-off
Easy access to clean and sanitize
Optional Features
Bead blasted stainless steel sorting deck
10 abrasive sheet textures available
Custom collection containers size
Unique deck textures
The Oscillating Shape Sorter is one of our newest technologies.
It uses linear oscillating vibrations under a table to make unrounded particles — be that misshapen seeds or debris — climb up the slope of the table. Meanwhile, round particles roll down the left side of the table to the bottom of the incline, which are then collected into 8 individual trays for sorting.
Due to its interchangeable decks offering different textures, the Oscillating Shape Sorter can accommodate a wide range of seed separations.
Are you sorting ceramics, fine powders, grasses and flower seed? Don't worry — the Oscillating Shape Sorter's classification range can be adapted to the material being sorted by adjusting the incline angle and amplitude of the oscillation, allowing you to adjust to any kind of product that needs to be sorted.
Model Number#   OSCA-1000
Configuration   Single Deck
Product Dimensions   32″x24″x48″
Shipping Weight   320 lbs
Material   Aluminum with abrasive paper
---
Power
Input: 115 VAC 60 Hz (optional 230 VAC 60/50 Hz)
Listed: UL Rated Components /CE
Get to know the Oscillating Shape Sorter
Particles that are not round climb up the inclined side of the table while the rounder particles are able to roll down the left side of the table towards the bottom of the incline.
We like to work with Steve because he not only understands his equipment but understands our needs – that allows us to get to solutions quicker and more completely. I would confidently recommend both Steve and Profiles' Rotary Sorter to anyone – they are both the best!
read more
Does your company have unique needs?
Give us a call or send a message